OTHER ACTIVITIES
– SNORKELING –
Experience the underwater beauty of the oceans located near Gulugod Baboy by availing our snorkeling services. Using the best diving equipment and expert guides, you can have a first-hand encounter with various fishes and other marine life.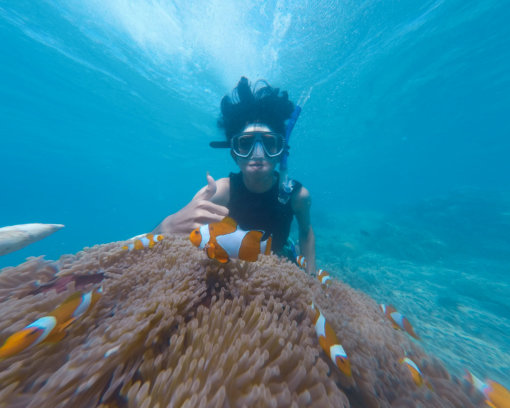 This is your chance to explore the beautiful diving sites known to satisfy and quench your thirst for excitement as we take you to an unprecedented underwater experience you'll never forget!
Taking you on a tour to our diving sites The Cathedral situated at Bagalangit Point, Kirby's Rock situated northeast of Caban Island, Koala situated south of Eagle Point and many more marine explorations you can find.
All famous for its far-reaching coral formations and well known dive sites for its enticing beauty and abundant sea creatures.
A certain kind of beautiful, one that pleases the eye and calms the senses. With a soothing view, lots of greeneries & natural elements.
THE ASRI DIVE & LEISURE RESORT
Check Availability
Can contact us thru the different channels:
Mobile no.: +63-915-703-4421 / +63-918-900-3644
Email:  [email protected]
Facebook: The Asri Dive and Leisure Resort
Instagram: theasrianilao
Book Now